My little Handsome, you're 4 months old today!


(I know, right -
ALREADY?!?
That's what Mommy thinks at every birthday, and will probably always think when it comes to you and your sisters).



It has been 4 months of pure bliss, my sweet boy, and I have loved every moment so far.


(I can't wait for more!)



Your little smiles and giggles light up my day like you'll never know.

You are our constant reminder to notice and appreciate all the seemingly little things in life...the things that seem to fascinate your little mind so. I can watch you for hours and be completely content. I love the way you stare at your hands as you learn to grasp things, the way your whole face breaks into a smile when someone smiles at you, the way you look at all the things around you when you're outside, staying very silent, as if taking it all in and enjoying it little by little.

And more than anything, I love the way you recognize me, and start kicking with excitement, cooing away when I walk into the room, or just within your gaze. I get just as anxious :) - and inside, I'm kicking with excitement too ;).

You are WITHOUT A DOUBT a Mama's Boy, and frankly, I hope you always will be.
(without the silly, negative connotations people tend to associate with that, of course)


You bring us HAPPINESS in ways we could never explain.

Thank you for being
(one of)
my little piece
(s)
of Heaven on Earth.

Do you know how blessed I am to be your mama?
SO blessed, I thank Heavenly Father every chance I get for it, and for you.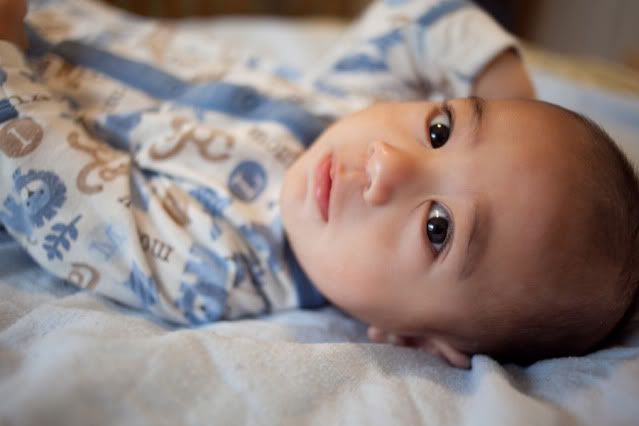 I love you SO very much, Son!
~Mommy
xoxo