Tiare Photography is named after my baby sister Tiare, who I hold as near and dear to my heart as my own daughters. She and I are 16 years apart, and so, in many ways, she's seemed more like my child than my sister. When I had decided to start my business, I thought about several names, and found there was an "Eden Photography" and no one pronounces my daughter Taimane's name correctly, and then I thought of my Tiare, and knew that was the name I wanted for my photography business.
Yesterday, my mom called me at work and told me that Tiare's best friend, PuHee Woo, in American Samoa was missing after the tragic earthquake and tsunami had hit two days before. I couldn't believe it and said a prayer for PuHee hoping she would be OK, and just a little while later, my mom called again to let me know that and both PuHee and her mother were gone. My heart ached for my baby sister who would be devastated by the news, and for PuHee's father and sister who would have to go on without their wife and mother, daughter and sister.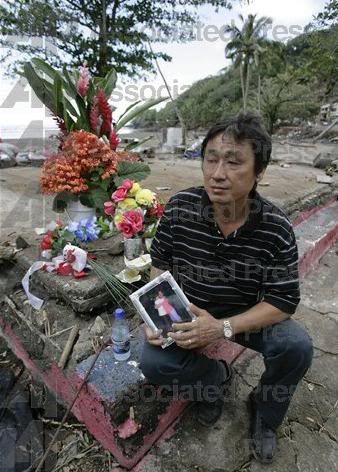 Photo Credit: Associated Press PuHee's father Young Sang Woo holding PuHee's picture at a make-shift memorial for his wife and daughter
All I could remember as I digested the news, was Tiare as a little girl, telling me all about her very best friend PuHee - everything was PuHee this, and PuHee that. She loved her dearly, and at 11 years old, I am so sad that she has to deal with the pain of losing such a close friend. PuHee's life was just beginning.
Tiare and PuHee being silly; August 15, 2009
Tiare wrote her own tribute to PuHee that broke my heart to read:
PuHee, you were an amazing friend with such a sweet heart and spirit. We all miss you and your Mom, but we know you both are happy where you are. I cried when I heard about the earthquake and tsunami in Samoa. I hoped that you and your family were safe. Then I had gotten the news that you and your Mom had passed away.

My Mom and I cried and cried, but my Mom reassured me that you did not go alone, and that made me feel better but at the same time, sad. I thought about your Dad and Gabi, and I know they feel a lot worse. I have pictures of you and some memoirs, and realized they were all I have left of you.

You were my best friend and you will always be, now and forever. PuHee, may you and your Mom, Rest In Peace, we all love you so very much. Our hearts and tears go out to both Mr. Woo and Gabi for losing a wife, a mother, a daughter and a sister.
May God Bless.
Photo Source: Facebook by NamHi Kim, PuHee's cousin
My mom sent an email this morning about PuHee that I also wanted to share:
Thursday, Oct 1st 2009....

Today we learned that my daughter Tiare's close and dearest friend PuHee Woo and her Mom, Mrs. Mija Woo were among the victims of the tsunami that struck our beautiful islands of American Samoa & Samoa.

My heart broke into pieces as I received this devastating news. Ever since the tragedy, I have been glued to my computer screen, my phone, TV news, anywhere I could get information from. When Tiare saw photos of Leone village she cried and was worried about her friend who resided in the village of Asili not far from Leone. She would constantly ask if she could use the computer to check if PuHee had sent an email. After speaking to her Grandma on the phone, she asked me if Grandma could check on PuHee and her family to see if they needed help and to maybe take them up to her house. I kept reassuring her not to worry and that PuHee & her family were safe and with the phone lines down, my Mom couldn't reach anyone in those areas.

Yesterday after school I had to break the news of the loss of her friend to her. She took it very hard. We had just seen Puhee when we went home for a visit 6 weeks ago. Tiare met up with some of her old friends from South Pacific Academy and she was so excited to see and spend time with them. It's been 3 years since we've been home and PuHee was at our house several times during our visit. As I watched the two of them, so much more grown up then the last time they'd been together, it was as if we had never left. Tiare & PuHee have been friends since Kindergarten and ever since then, they shared a special bond and became best friends. Last night Tiare and I said a little prayer for PuHee, her Mom and all the victims of this horrific tragedy, especially for her Dad and little sister who were left behind.

Now I read the stories of those who survived but have lost everything, and I am truly humbled. The material things of this world are minute and replaceable compared to the loss of lives taken away too soon. We continue to be reminded of life's challenges and how short it really is. Today, let's hold our children a little longer and tighter than ever. Let's be strong, keep our faith and continue to pray for our families and friends during this very difficult time.
IN LOVING MEMORY of PUHEE WOO of ASILI, AMERICAN SAMOA. IA MANUIA LAU MALAGA! WE LOVE YOU!
We continue to pray for those that are still missing, for those that are gone, and for those who were left behind.